Teacher Spotlight: Ms. Bridgeman
September 02, 2021
Get to know one of the newest additions to Andrean, Ms. Bridgeman! She is a 59er alumni and joins us with plenty of expertise and enthusiasm for the arts. We conducted an interview so that we can all get to know her a little better. For example, can you guess what her hidden talent is? Keep reading to find out.
Q: What is your favorite class to teach?
A: I am really looking forward to teaching the different levels of painting. Painting is a big part of my background, and I try my best to incorporate both past and newfound knowledge to allow the class to evolve and grow. I love to see students surprise themselves once they get a paintbrush in their hands. I think painting can be a great break for the mind.
Q: Who inspires you?
A: Someone who really inspires me is my previous boss & now friend, Nancy. Nancy owned an art studio while also maintaining her role as a grade-school teacher. She finds the time to balance work, family, and her interest in the Arts with a smile on her face every day. I had the privilege of learning from her for 5 years at the studio. She really inspired me to make the transition to teaching.
Q: Do you have any hidden talents or hobbies?
A: My hidden talent is that I can paint with both hands!
Q: What was your first job?
A: My first "big girl" job was working at The Art Studio in Lansing, IL.
Q: Why are you in education?
A: I feel fulfilled when I can share my love of art with others. I especially love building confidence in young adults with art as the catalyst. Teachers definitely inspire new teachers like me!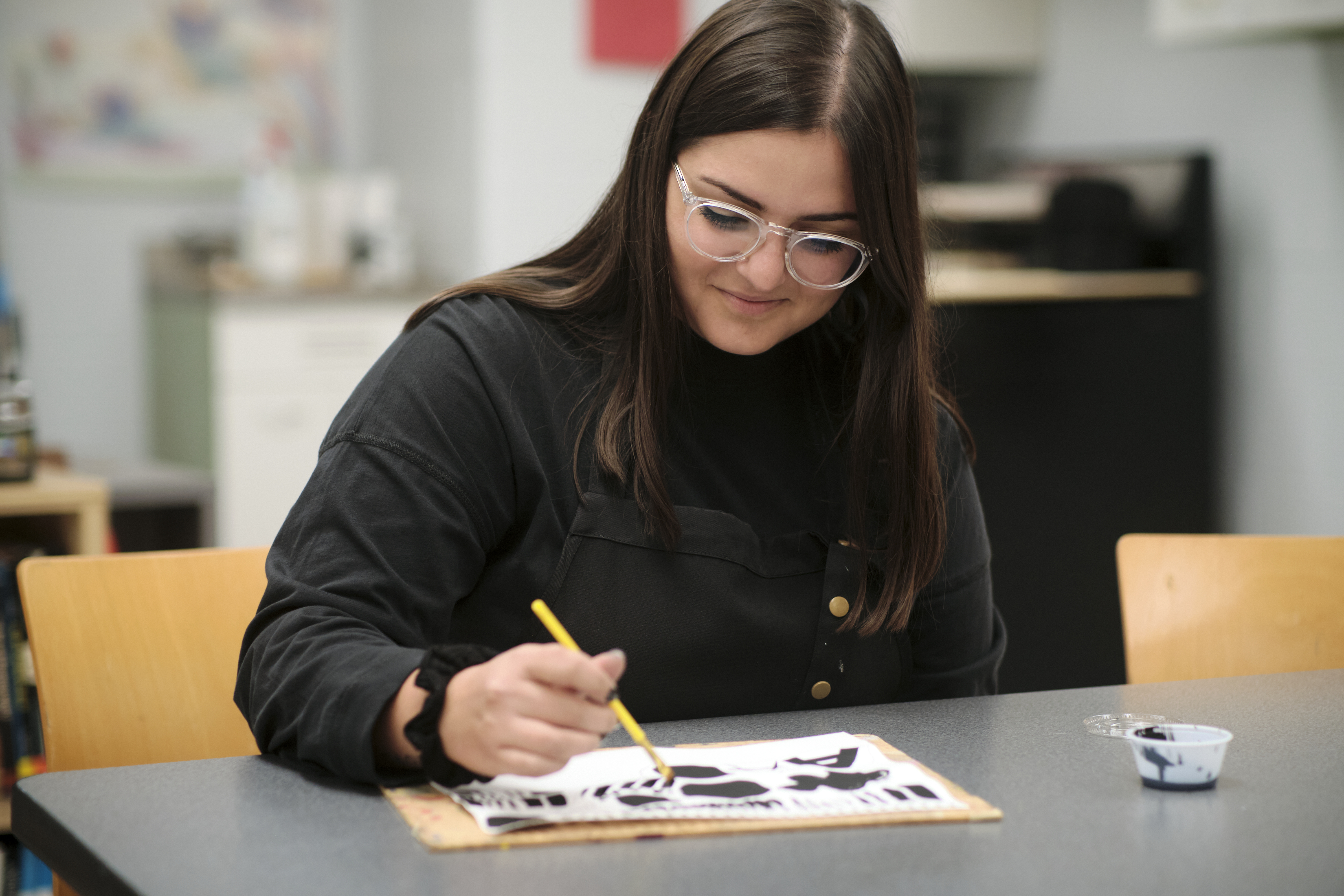 Q: What do you love most about Andrean?
A: As a former Niner and now teacher, I can say I love the sense of togetherness that exists at Andrean. It's a small, close-knit group of people that really has become a second family.
Q: What is your biggest fear?
A: My biggest fear is flying! Planes are a no-no for me.
Q: Tell us your favorite teaching moment.
A: My favorite teaching moment was getting to showcase student work in an art show. I had a student who was very doubtful about putting a certain work in the show as he was afraid it wasn't "perfect" enough. I had the privilege of purchasing this piece, and it now hangs above my desk as a reminder.
Q: What else should we know about you?
A: I am eager to start this new journey at Andrean, and I cannot wait to get Art Club up and running. If you are interested in Art Club, come see me in Room 123!