Teacher Spotlight: Mr. Lundquist
September 15, 2021
Get to know Mr. Lundquist! He teaches Theology and Scriptures here at Andrean and has a passion for encouraging students to consider different perspectives in the classroom. Not every Theology teacher can say he has seen the Pope.
Q: What is your favorite class to teach?
A: My favorite class to teach now is the same one I begged my principal my first year to not teach at all: Scriptures. At the time, I felt like I only had a basic understanding of scripture, but with each unit, I was pushed to dig deeper into the context and find new unique perspectives that could push students to think harder whether they had 8 years of Catholic education or were just taking their first religion class.
Q: Who inspires you?
A: If you haven't binged Ted Lasso yet, stop reading and sign up for a free trial of AppleTV right now. The fictional Ted Lasso inspires me with his clever wit, ability to make everyone feel like they belong, and talent for finding potential in whoever he works with. Here is my favorite Ted Lasso quote: " takin' on a challenge is a lot like ridin' a horse. If you're comfortable while you're doin' it, you're probably doin' it wrong."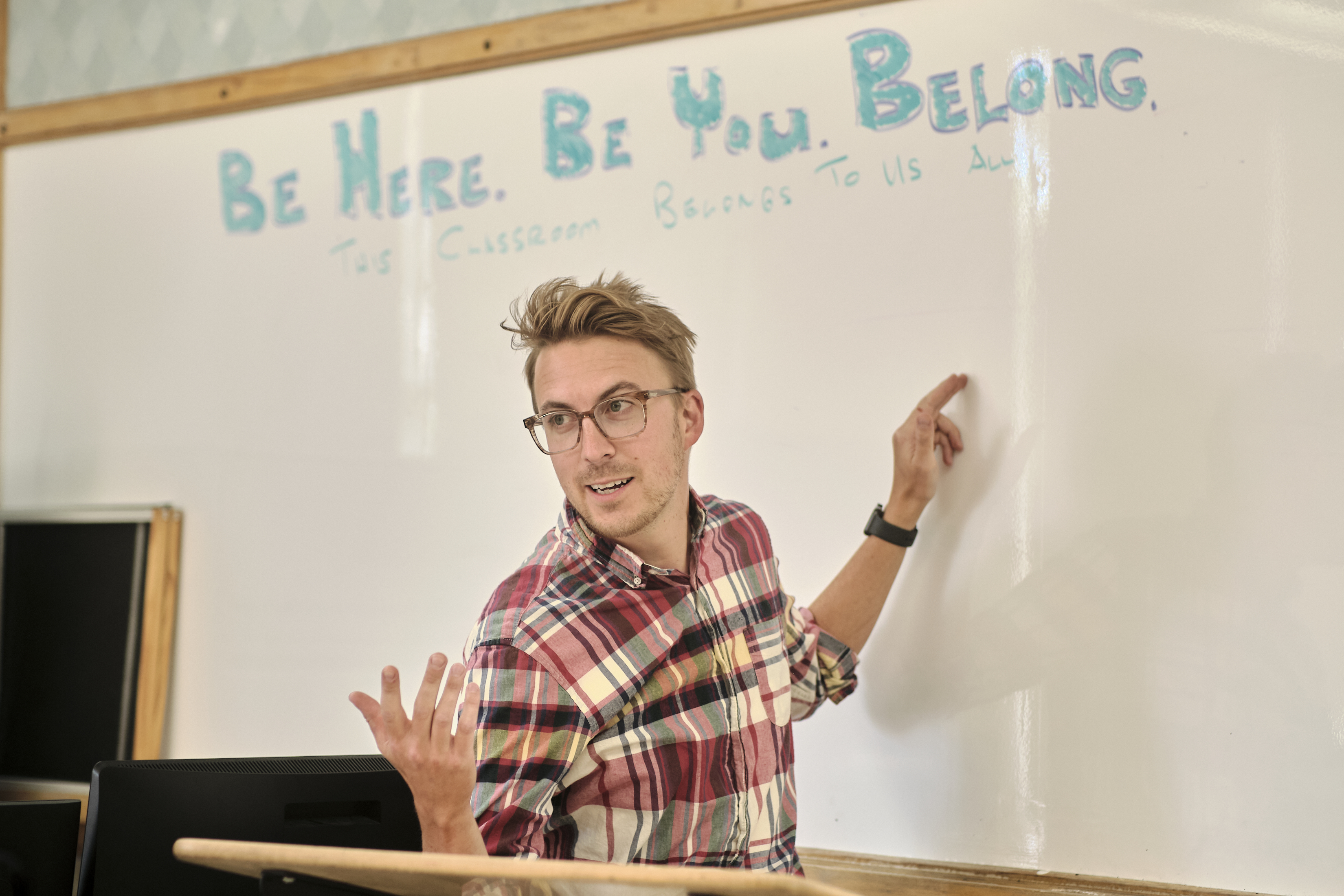 Q: Do you have any hidden talents or hobbies?
A: Drawing, Painting, and Woodworking
Q: Why are you in education?
A: To help widen students' perspectives, especially about topics they may have already made their minds up on. Doing this in a religious classroom, where students come from a variety of backgrounds, cultures, and faith communities, it is incredibly important to create a space where each student can feel like they belong.
Q: What do you love most about Andrean?
A: The thing I love most about Andrean is the supportive faculty who have helped me navigate all my questions heading into a new teaching environment.
Q: What is your biggest fear?
A: Getting to school and realizing I have no lesson for the day!
Q: Tell us your favorite teaching moment.
A: At my previous school I was in charge of a social justice club that took on the issue of sexism and sexual harassment. It culminated in a student-driven lesson, several collections for local organizations, and ultimately our work earned us an invitation to a Global Summit where students from around the world shared their own projects in Rome. Oh, and we got to see the Pope too.